Description
Inflatable rescue walkway is in the shape of a catamaran and has been developed to offer rescue teamsthat can be used as a path, platform, pontoon or raft. We use 20cm height heavy duty double wall dropstitch fabric for the inflatable rescue walkway which gives it excellent stability. Thanks to the rigidity of pressurized dropstitch fabric, it is very stable, not bending.  The top of the path is equipped with antislippery EVA foam. Corner handles for easier manipulation and perimeter ropes are the standard part of each unit. It can be used in water, unstable terrain and ice. The improved design assures a superb stability under all circumstances and can be used either as a raft or a work platform. The inflatable rescue walkway is easily and rapidly unrolled, inflated or emptied. When packed it can easily be stored and transported. This item can also be made to custom measurements, available in 2m, 5m, 10m, 15m and custom sizes (Contact us to enquire).

Inflatable rescue walkway specifications
Material: PVC Double Wall Fabric+ Polyester high tenacity PVC coated inflatable boat fabric
Length: 15 m
Width: 1.80 m
Height: 0.2 m
Weight: 90 kg
Working pressure: 0.5-0.9 bar
Carrying capacity: 3 000 kg
Air requirement: 5570 liters
Delivered in is transport bag and repair kit.
Technical Specifications:
Easy applied andused
Unfolds automatically when air inflated and it does not need the rescuer to prepareit
Can be managed and set up it place by one or two of therescuers
Expandable by connecting to the another rescue walkway to increase in length and inwidth
Angles and sides of the rescue walkway designed to help easily withdraw individuals
Tenacity strength and cohesion of materials from up and down thewalkway
Tenacity strength should be at least, 2600×5000 (+-150) Newton/5 cm as per DIN:53354
Cohesion strength should be at least, 150×150 ( +- 10) Newton /5 cm , as perDIN: 53357
Tenacity, tearing and cohesion strength of the side wall of thewalkway:
Tenacity strength should be at least, 3000×3000 (+-200) Newton/5 cm as per DIN:53354
Cohesion strength should be at least, 100×100 ( +- 20) Newton /5 cm , as perDIN: 53357
Accommodates to temperature from – 30 – +70centigrade
Surface and the base of the walkway slip proof to ensure safe and steady walk
Measurements when folded is 180 cm x 100 cm x 85cm
Operation pressure is 5-0.9bar
Safety valve to block extra air when inflated by air
Debut time of the walkway is 120seconds
It is chemicals proof for a period not less than 15minutes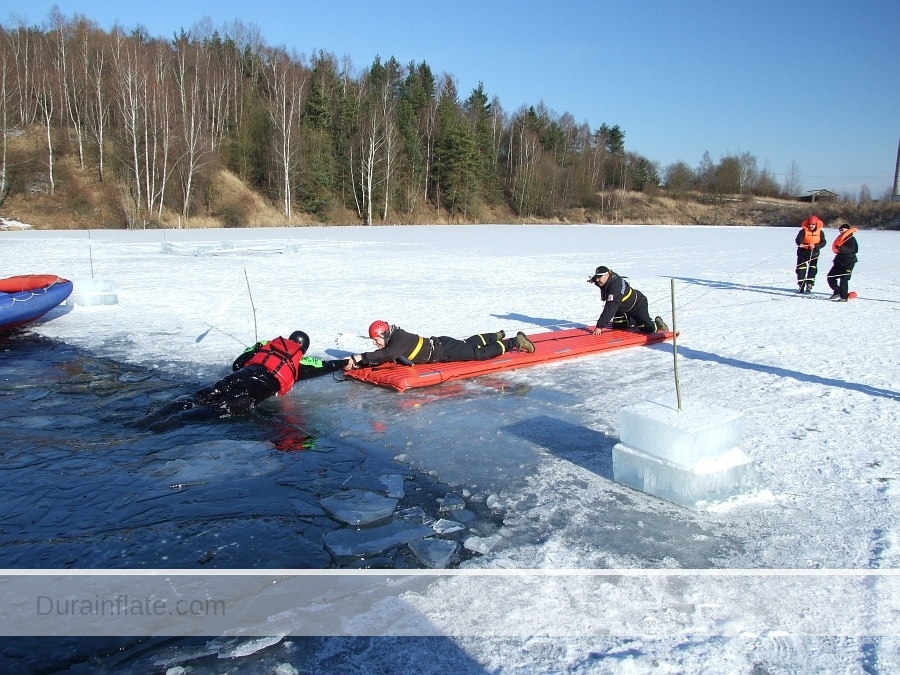 Inflatable rescue walkway applications
Universal part of equipment of rescue teams, of fire brigades and other units.
Intended for the use on unstable surfaces, such as water, ice or crushed ice, marshlands, sand and similar.
Wide possibilities of use – for rescue of people, as floating platform for transport of material or people, working base for divers etc.
Inflatable rescue walkway technical data

Type
Code
Length
Width
Height
Inflation

Pressure

Safety Valve
Air

Requirement

Weight
Dimensions Folded
Units
m
m
m
BAR
BAR
L
kg
m
5m (inflated)
520018
5
1.37
0.2
0.5
0.5 +/- 10%
1600
27
1.15 x 0.45 x 0.35
10m (inflated)
520019
10
1.37
0.2
0.5
0.5 +/- 10%
3200
55
1.15 x 0.65 x 0.50
Inflatable rescue walkway features
Easy handling, operation and mobility.
Quickly prepared for use.
Available in custom sizes.
Inflation with pressure air or electrical or hand pump.
Safety-relief valve prevents from overinflation.
Highly resistant material.
Upper side of the walkway with antiskid treatment.
Safety circumferential and central rope for an easier handling, to fix further segments, but also for catching people to be rescued.
Reflective strips on sides for a better visibility of the walkway under difficult conditions.
Possibility to connect or to superimpose segments by means of snap-hooks to extend the walkway or e.g. to increase the loading capacity.
Multiple lifting handles
D-ring attachment points on the bottom
Multiple D-ring attachment points
Anti-slip surface