Product Description
For the paddle board market, there are 3 types of dropstitch material that is wildy used, single layer which is the most widly used for standard paddle boards, it is low cost and light weight. But for some professional players, some luxury brands developed double layer dropstitch to improve performance of the product:
Single layer dropstitch
Traditional single layer dropstitch paddle boards becomes a banana when you stand on it , you can compeletly change the shape,  it is not very consistant not delivering authentic paddle boarding experience, the big advantage is the weight, make it easy to carriy and transport. Single layer paddle boards, max pressure is 15-18psi.
Hand laminated double layer dropstitch
Apply glue on top and bottom of single layer dropstitch, then laminate extra layer of pvc fabric by hand.this reinforce is very important, it has a dramtic affects on stiffness. Double layer paddle boards max pressure is 20psi. Double layer drop stitch is much stiffer and maintain shape and way more durable. However it is heavier and harder to roll, also work by hand can't avoid cosmetic blemishes.
Machine laminated double layer dropstitch
Machine pre-laminated double layer drop stitch is recognised as the industry's most advanced technic. The machine laminate a layer of high-density structural PVC to single layer dropstitch under controlled conditions. It applies a one-shot lamination and glueless construction. Reduce weight and give better bonding. Avoiding the human factor involved in traditional double layer application. This whole process is done at the raw material stage by carefully calibrated machinery developed for this process. The result is a consistent high-level cosmetic finish that has the durability and strength properties of our previous double layer construction. And because this process is done at the raw material stage we are now able to benefit from torsion stiffness as the material is put under tension when the board is inflated. Machine pre-laminated double layer drop stitch paddle boards is upto 2kg ligher, stiffer, durable airtight and easier to roll.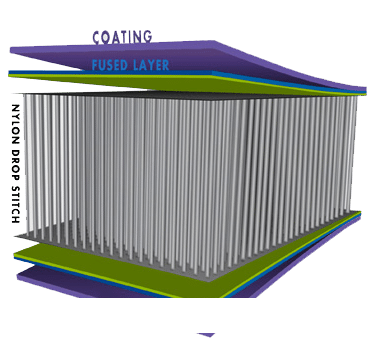 WHAT ARE THE OBVIOUS BENEFITS?
COSMETIC FINISH: No wrinkles or blemishes. The surface look cleaner and smoother and even feel better to the touch.
LIGHTER: Up to 15% lighter than our hand made double layer dropstitch.
STIFFER: We recommend a pressure of between 16-22psi. Double layer drop stitch is much rigid and maintain shape when you stand on it.
DURABLE: The multiple-layer coating is tough and durable.
ECO: The pre-laminated process avoided the old fashion glue process. Less glue makes it more enviroment friendly and less chemical smell.
SAFER: The double layer dropstitch is way more anti-scrach and safter against impact like sharp rocks.
Double layer drop stitch specifications
Material: 100% Polyester 
Type: Coated fabric
Pattern: Coated, Dot, Wave, In-line
Coated type: PVC Laminated, PVC laminated
Style: Plain
Width:  0.9-2.6m up to 3.2m
Technics: Woven
Feature: Flame Retardant, Shrink-Resistant, Tear-Resistant, Waterproof, Waterproof,Flame Retardant,Tear-Resistant
Certification: EN, SGS, ISO9001-2001 ISO14001-2004 and ISO18001-2001
Yarn count: 500D*500D
Weight: 2200-3300gsm, 22200-3300gsm
Double layer drop stitch applications
1. Inflatable boat bottom
2. Mattress
3. Inflatable swimming pool
4. Air deck
5. Surfboard
6. Sup board
7. Air mat
8. Gymnasium mats