Description
Dropstitch inflatable tub made with high-pressure TPU inflatable double wall fabric has been designed with 5cm/8cm thick walls and 180cm round shape can be easily inflated anywhere for unrivalled relaxation in any environment. Main body of the inflatable pool can be customized logo, material colour or UV printed iamge to provides a stunning affluent aesthetic! Easily accommodating two to four people, equiped with our builtin plastic hose for water in and out. Inflatable tubs need to be filled with air before use. They are best suited if you want to conveniently store the tub away during colder months.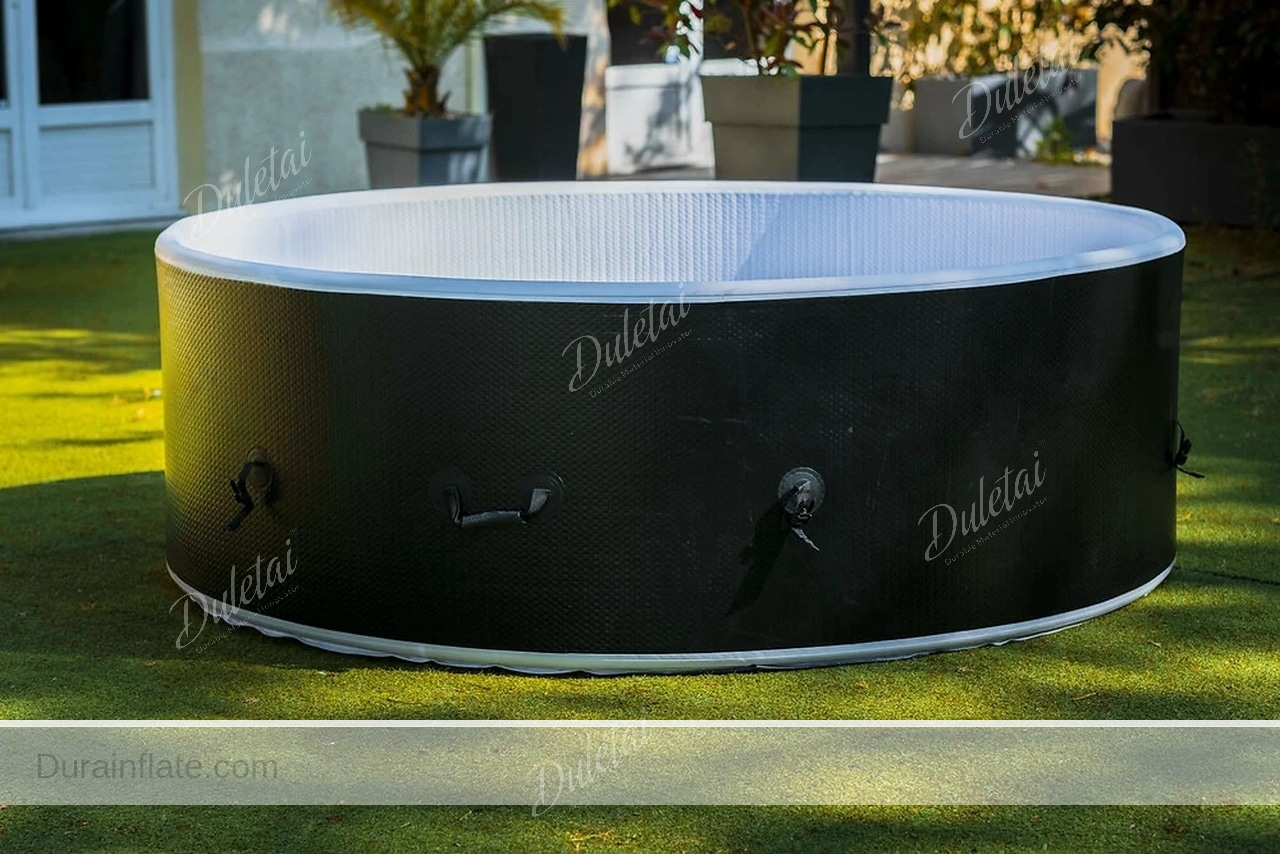 Why use TPU for dropstitch inflatable tub?
TPU drop stitch fabric is widly used for inflatable sports equipments, however PVC composition has plasticizer, that is not enviroment friendly. So we developed TPU dropstitch material, that is smellless, softer, lighter, wearing resistant and 100% safe to direct contact with skin. TPU material is widly used for food and medical equipment. Drop-stitch fabrics with TPU film are designed for inflatable structures with high airtightness and ageing properties, along with minimum weight. They are used for performant products as inflatable floors, rescue air tracks, dropstitch inflatable tub, SUPs etc. Our range starts at 30mm height, feel free to contact us if you have specific request.
Technical Datasheet:
TPU Inflatable Tub | DuraInflate

Material

TPU dropsitch + 0.7mm TPU tarpaulin

Main body:

5cm/8cm dropstitch with double layer 0.5mm air tight TPU material,

Bottom:

3-ayer combination: 0.5mm TPU material + EVA foam insulation  + 0.7mm TPU material

External Dimensions

196*196*80cm Round


Internal dimensions:

180*180*80cm Round

Safety:

Heat isolation protective cover

Plastic parts:

Water in / Water out hose

Accessories:

Hand pump, Strap belt, Carry bag, Manual, Cover, Repair kit

Valve:

Bravo brand high pressure valve 

Recommended pressure:

0.7 bar / 10psi


Colour:

Customized

Temperature:

 -20~+70(°C)

Options:

Customized shape and dimension, Customized screen printing, UV printing, material colour

Packing:

PE bag, Foam, Paper box 103L 55W 58H

Net weight

12KG


MOQ:

300pcs for customized material, 50pcs for instock material
Customized shape:

Inflatable tub need to be filled with air before use. They are best suited if you want to conveniently store the tub away during colder months. Inflatable tubs are more affordable but lack the sophisticated features of hard shell models. Most do not have hydrotherapy water massage jets but rather use air to create bubbles. They do not have any seats so are less comfortable. Their softer shell also means there is a risk of punctures over time.
Outdoor tubs comparism:
Soft Shell

Inflatable Hard Shell

Sloid Hard Shell

Multiple layer
0.5mm PVC material

0.7mm TPU material
+ TPU Dropstitch fabric
Glass reinforced plastic
+ Rubber + Metal

Purchase Cost:
Low


Purchase Cost:
Medium

Purchase Cost:
High


Lifespan:
1-3years

Lifespan:
5-10years

Lifespan:
10-15years

Heat isolation:
Low


Heat isolation:
Medium


Heat isolation:
High

Portable:
Yes

Portable:
Yes

Portable:
NO

Not resistant to scrapes
and punctures

Good resistant to scrapes
and punctures

Extremly
robust

Light weight:
Around 20kg

Ultra light weight:
Around 12kg

Large weight:
Over 100kg

Enviroment friendly:
Not

Enviroment friendly:
Yes
Enviroment friendly:
Not

Soft inflatable toy
hand feeling

Hard side wall people
can walk or sit on
Hard side wall people
can walk or sit on