Description
Aerogel insulation mat is composed by fiberglass and nano silica aerogel. Aerogel was first created by Samuel Stephens Kistler in 1931, as a result of a bet with Charles Learned over who could replace the liquid in "jellies" with gas without causing shrinkage. Aerogels are produced by extracting the liquid component of a gel through supercritical drying. This allows the liquid to be slowly dried off without causing the solid matrix in the gel to collapse fromcapillary action, as would happen with conventional evaporation. The first aerogels were produced from silica gels. Kistler's later work involved aerogels based on alumina, chromia and tin dioxide. Carbonaerogels were first developed in the late 1980s.
Aerogel is a synthetic porous ultralight material derived from a gel, in which the liquid component of the gel has been replaced with a gas. The result is a solid with extremely low density and lowthermal conductivity. Nicknames include frozen smoke, solid smoke, solid air, or blue smoke owing to its translucent nature and the way light scatters in the material. It feels like fragile expanded polystyrene to the touch. Aerogels can be made from a variety of chemical compounds.
Using special nanotechnology, our aerogel insulation mat combines a silica aerogel with reinforcing fibers to deliver very low thermal conductivity, low density and good flexibility in an environmentally safe product. Aerogel insulation mat provides excellent properties of waterproof, sound absorption and shock absorption. It is an alternative to the common, environment unfriendly, inferior insulation products, such as PU, asbestos insulation felt, silicate fibers, etc.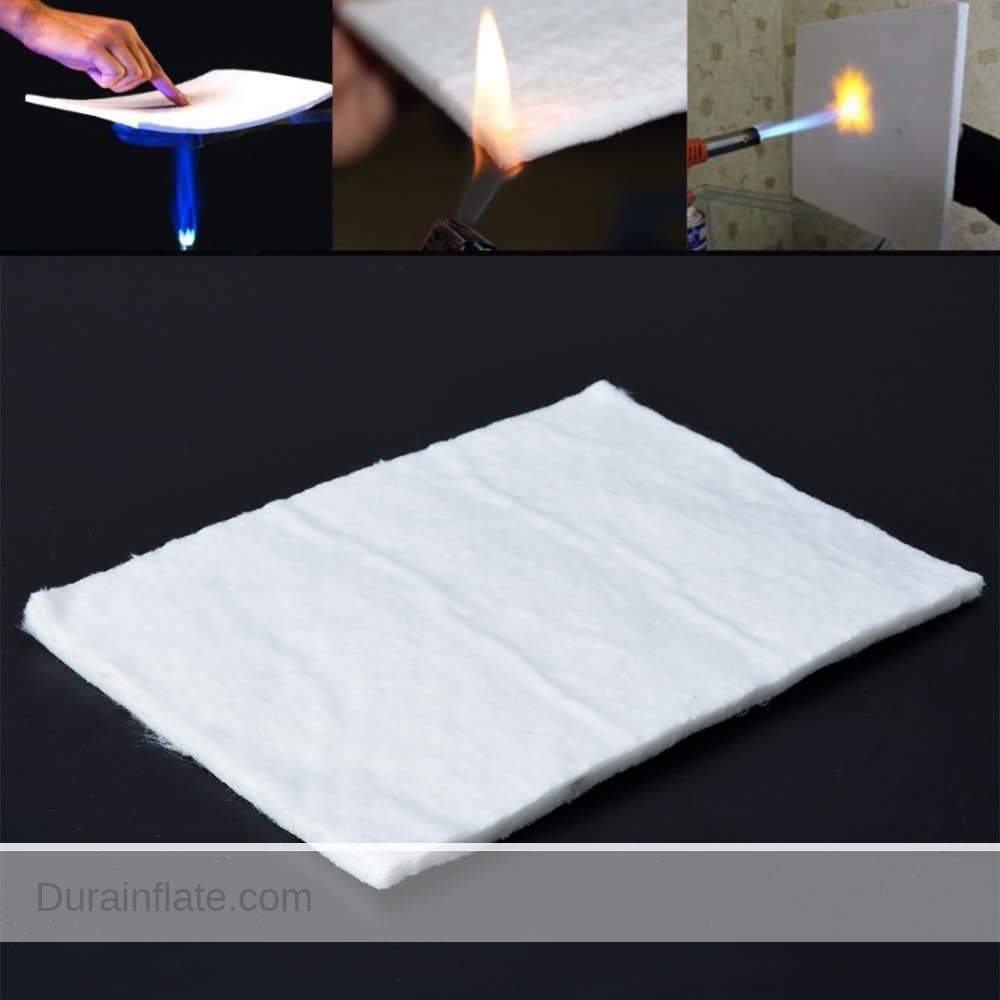 Aerogel insulation mat specifications:
Item name: Aerogel Insulation Mat
Material: Fiberglass + Nano Silica Aerogel
Color: White
Thickness: 3mm / 6mm / 10mm (optional)
Width: 1.5meter
Roll length:16.8meter
Density: 180-220kg/m3
Applicable Temperature: -200℃ ~ +1000℃
Hydrophobicity: Absolute Hydrophobicity (Below 350℃)
Thermal Conductivity: 0.012 – 0.018w/m·k (At 25℃)
Low Temperature Bending: ≤99%
Breaking Elongation: 65%
Bending Strength: 45KP
Compressive Strength: 32N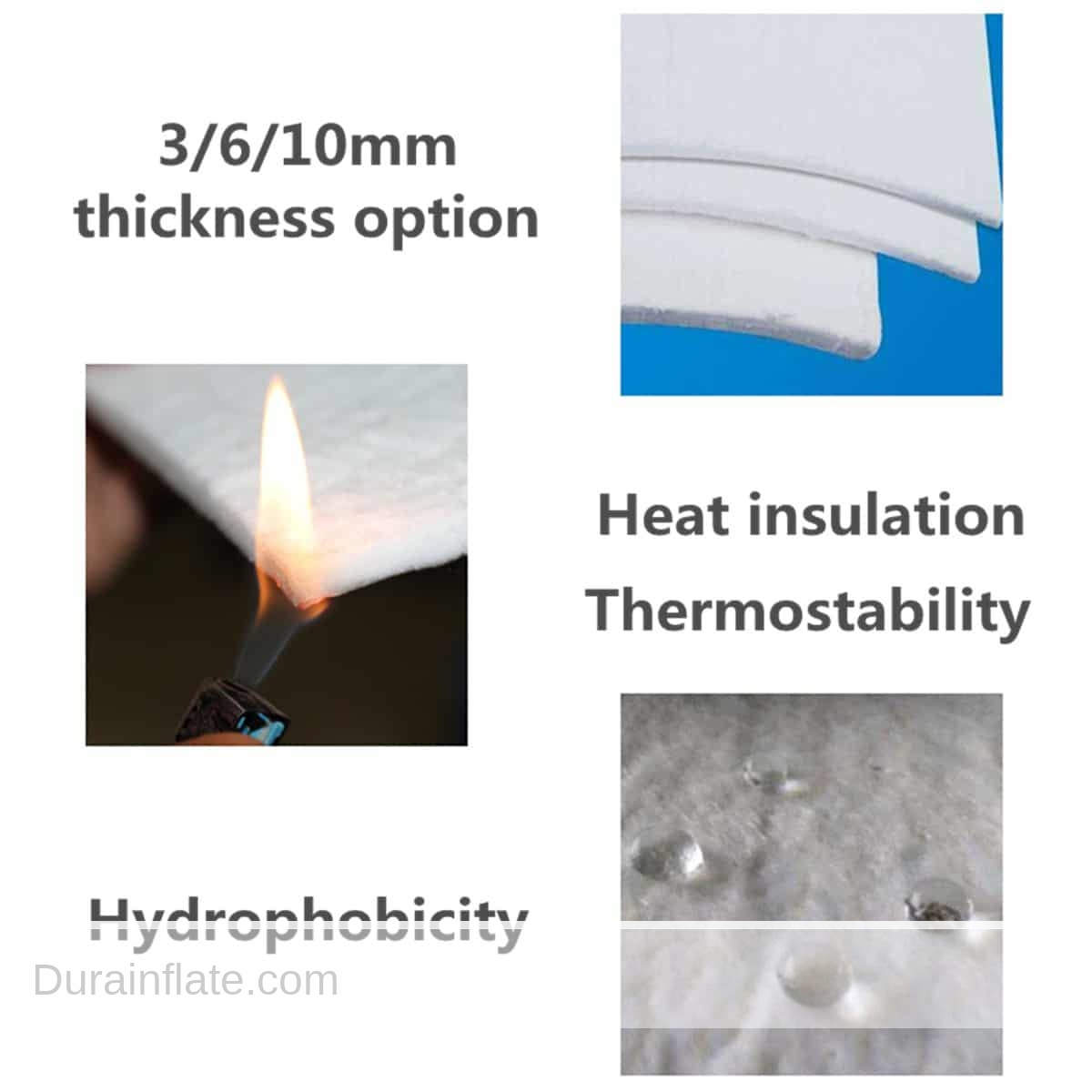 Aerogel insulation mat features:
Superior Thermal Performance:
The maximum use temperature is 1000℃,Its thermal conductivity is 1/3~1/5 of common insulators, low density and low thermal conductivity, helping reduce heat loss and optimizing space utility.
Long service life:
Unlike other traditional insulation materials, aerogel 's three- dimensional, structure inhibits sintering warpage, and particles stack which may occur under hot temperature for long time. Therefore, aerogel insulation has long service life.
Physically Robust:
It has flexibility and high tensile strength, resisting stretching and stress from linear contraction when temperature changes. Hydrophobicity and fire resistance to effectively prevent water entering the pipe, internal equipment.
Environmentally Safe:
Composed of inorganic materials, it contains no hazard. Stripping little chloridionm will cause no corrosion to the equipments and pipes.
Sound resistance and Shock Absorption:
Sound resistance and shock absorption help better the environment quality.
Easy to Install:
Extremely low density (200kg/m3) contributes to easy-to-cut and easy-to-install. Reducing the thickness of insulation layer. A small loss of heat insulation, high space utilization rate. Easy to cut and sew to adapt to different shapes of pipes and equipment.
Aerogel insulation mat applications:
Industrial pipelines
Storage tanks
Industrial furnace
Power plant
Lifesaving cabin
Ship bulkheads
Household appliances.
When we fused aerogel insulation mat to our dropstitch fabric, we created a new inflatable insulation solution for vehicle thermal insulation, national defence, military industry, heat supply pipelines in city insulation, biological medicine pipes and equipment and so on.