iDock
Manufactured with 20cm height dropstitch, these inflatable floating platforms provide a rigid ground perfect for a floating base at a favourite swim spot
Description
Manufactured with 20cm height dropstitch, these inflatable floating platforms provide a rigid ground perfect for a floating base at a favourite swim spot, a temporary dock for a stylish beach landing or simply as a fashionable extension to your yacht so everyone has room to sunbathe and enjoy the water. 
ENGINEERING,DESIGN AND INNOVATION
The iDock is the stream-lined, no-nonsense, hard-working alter ego. Designed as a sports and water toy raft, its fast-inflation, anti-slip EVA deck, and uber-toughness make it the perfect structure for yacht wash-downs, maintenance and sports recreation. The iPlatform inflatable floating platforms does NOT have the built-in onnection system, but does have huge stainless steel D-rings for tying or anchoring and built-in water anchors for increased stability.
The mother company of durainflate is a professional dropstitch and pvc material factory (Haining Duletai New Material Co.,Ltd) , so the iPlatform series was designed and made with the latest technology material, thanks to that, with the same life-time and performance, our product is 30-35% lighter than other similar products on the market.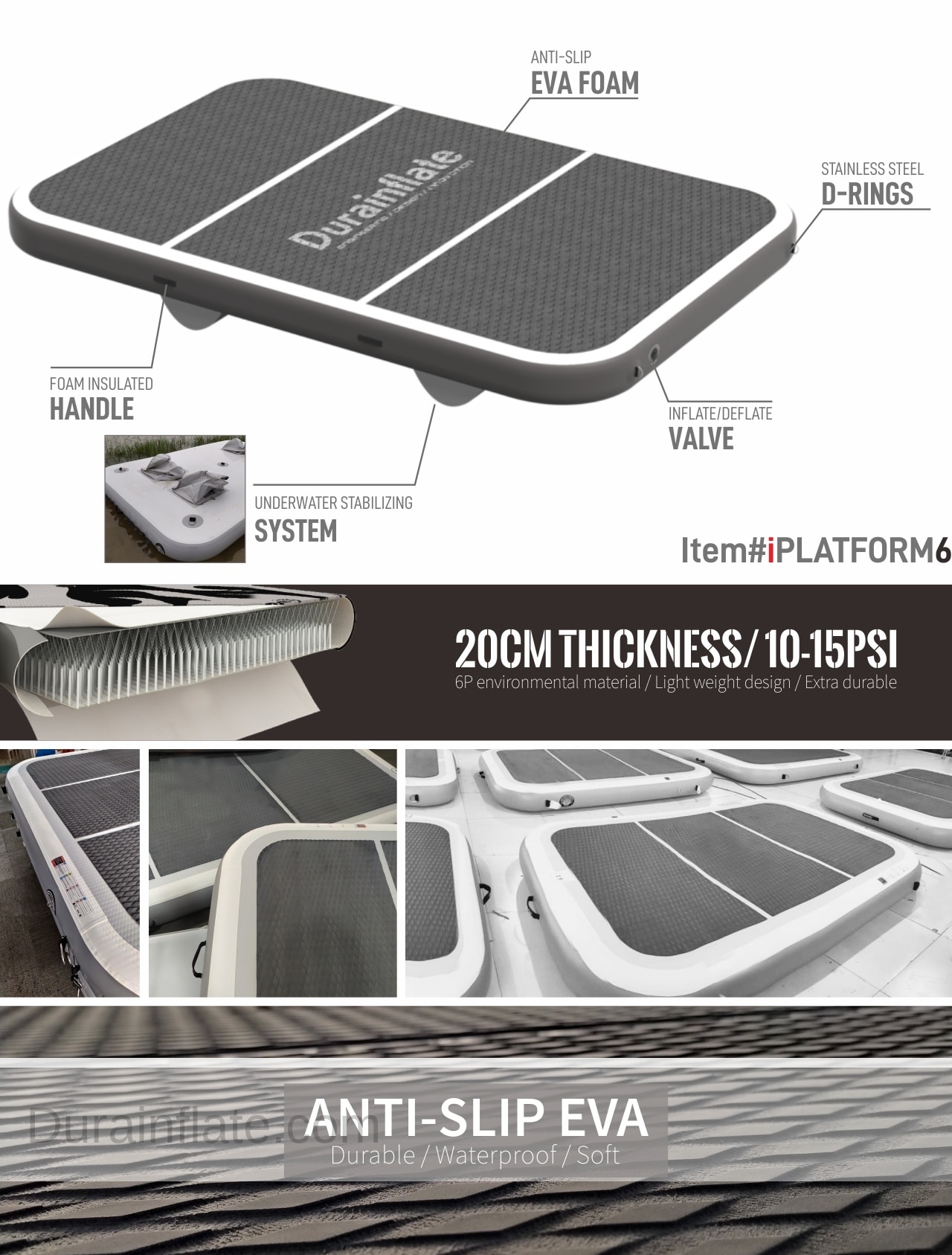 Inflatable Floating Platforms Assembly Instructions:
Assembly and operation of this product requires two or more people and must be performed on dry land, before deploying on water.
Carefully unroll your inflatable floating platforms.
Spread out the product to its actual size. Make sure you have a large enough space to inflate the product. Caution: Do not inflate in winds exceeding 10 kts(19kph)or near obstructions or hazards, including sharp objects.
Plug in the included air pump. Locate the vale on the side of the product and fasten the hose from the pump to the valve. Please note,you need to utilize a high-volume air pump (sucn as the one included with your purchase) to inflate a product of this size. Refer to the specific instructions below on inflation. When you are done inflating the proouct it should be firm to the touch and it should not be easy to press in on the product.
Once product inflation is complete, it may be carried to the water. It will ake several people to lift and carry the product. Do not attempt to lift this product by yourself. Do not drag across any land surface.
Lower the Dock into the water, ensuring that the four water bags (located on thebottom of the product) are expanded and that they fill with water. This will reduce drifting and increase stability.
Inflate&Deflate Instructions:
Caution: NEVER use an air compressor to inflate your inflatable floating platforms. This may cause the product to burst. Excessive high pressure during inflation can damage the product and may void the warranty. This product is equipped with a Quick Inflate Valve:
To inflate, push down valve centre turn unlockwise (valve will remain in).
Affix the correct hose fitting to your high efficiency electricair pump.
Carefully insert the fitting to the valve.
Turn urn clockwise to lock in place.Inflate until firm.
To deflate, push down vave centre turn anticlockwise of a turn (valve centre wil remain out).Le the dock deflate.
Roll up raft (NEVER fold) to remove the remaining air and store. Leave valve out so that the idock can breathe whilst stored
Monitoring & Maintaining Proper Inflation AIR VALVE
To prevent serious damage to product,aways inflate fully to 3.2psi. Proper inflation will make the raft firm and rigid. An over inflation vave is fitted to protect your inflatable floating platforms from over inflating and causing damage. It will release air when the maximum air pressure is achieved. You will need to add air if exposure to cool air or cool water lowers the internal airpressure.
Inflatable Floating Platforms Specifications & Retail price:
iDock3  / $899
Dimension: 1.5m x 2m
Weight: 17kg
Inflate Time: 1 min
Max 2 Persons
EVA Top Layer
4 Stability Water Bags
Includes High Volume Electric Air Pump
—————————————————————————
iDock6  / $1499
Dimension: 2m x 3m
Weight: 33kg
Inflate Time: 1 min 45 secs
Max 4 Persons
EVA Top Layer
4 Stability Water Bags
Includes High Volume Electric Air Pump
—————————————————————————
iDock10  / $1999
Dimension: 2m x 5m
Weight: 56kg
Inflate Time: 2 min 30 secs
Max 6 Persons
EVA Top Layer
4 Stability Water Bags
Includes High Volume Electric Air Pump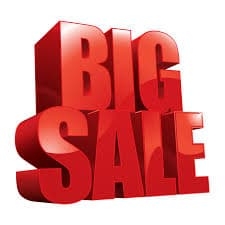 2020 New Year Promotion!
For idock & idock Pro, 15-30% discount is available. Contact sales for more information.
DISTRIBUTORS / OEM / ODM
Distributors: We are not only selling above products online, but also willing to work with overseas distributors. Contact us for distributor prices and policy.
OEM: Want to use your own brands? Sure, why not! Work with us, use your designs or ours are both ok, we accept OEM orders and lable it your logos.  
ODM: Have some great idea but need some professionals work together with some prototype? Find us, we can do it!